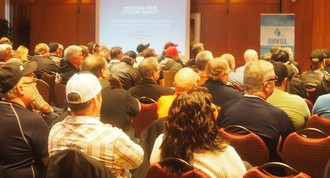 Check out the Calendar below for special water & wastewater industry events and seminars.
Previous

January 2019

Next
Sunday
Monday
Tuesday
Wednesday
Thursday
Friday
Saturday
Upcoming Events
Monday, March 11, 2019
44th Annual Operators Seminar - Banff, AB - March 11-15, 2019
Time: All Day
Join us in Banff for dynamic networking and educational opportunities!
The Operator's Seminar Committee is creating an event that will deliver solid learning and networking value to all attendees, including: operators, supervisors, managers, system owners, suppliers, contractors, consultants and government officials.
Click on the following links for more information and registration:
Please note: Information on Pre-Seminar workshops will be available January.
Saturday, June 8, 2019
AWWOA 2nd Annual Golf Tournament
Time: All Day
Join us at the beautiful Black Bull Golf Resort on Saturday June 8th, 2019 for a round of golf followed by a BBQ dinner and prizes.
Information for registration and sponsorship coming in 2019!
Tuesday, September 17, 2019
WCW19 Edmonton, AB - September 17 - 20
Time: All Day
Location: Edmonton, AB