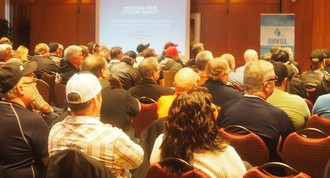 Check out the Calendar below for special water & wastewater industry events and seminars.
Previous

May 2019

Next
Sunday
Monday
Tuesday
Wednesday
Thursday
Friday
Saturday
Upcoming Events
Saturday, June 8, 2019
AWWOA 2nd Annual Golf Tournament
Time: All Day
Join us at the beautiful Black Bull Golf Resort on Saturday June 8th, 2019 for a round of golf followed by a BBQ dinner and prizes.
For more information and registration click here
Tuesday, September 17, 2019
WCW19 Edmonton, AB - September 17 - 20
Time: All Day
Location: Edmonton, AB
Wednesday, November 13-15, 2019
2nd Annual Water Week Conference - Edmonton, AB Nov 13-15, 2019
Time: 8:00 am - 12:00 pm
The AWWOA invites you to attend our second Annual Water Week Conference in Edmonton from November 13-15, 2019.
Click here for more information.
The conference will take place at the DoubleTree by Hilton Hotel (West Edmonton). It will provide delegates with 0.9 CEUs, access to technical sessions, trade show and valuable networking opportunities throughout the event.
An additional 0.3 CEUs will be available by registering for a pre-conference workshop on November 13th. Workshop information will be available in August.