Giving the Gift of Clean Water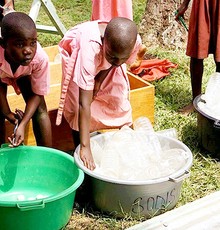 AWWOA members have first-hand knowledge of the importance of safe drinking water and proper sanitation. Therefore, they support charitable organizations that directly tackle community problems related to bad water. Monies collected through member fund raising are donated to The Water School, a global, non-profit organization dedicated to providing safe water and sanitation solutions in developing nations. 
Charitable Donations 2018
This year, AWWOA and its members raised $21,466 in charitable funds. AWWOA donated all funds to support two children's Primary Schools in Uganda through The Water School.
AWWOA is fund raising specifically for two primary pchools in the District of Ngora Uganda in Budala and Najja, with a total student and teacher population of 730. It receives untreated water from a borehole, supplemented by rainwater.  The Water School project will provide them with sanitation education and safe drinking water using a simple solar disinfection process. The result will be students who can concentrate on school because they are healthy and happier.
A new addition to the projects are 10,000 litre concrete tanks to collect rainwater, which are covered to prevent mosquito breeding. In addition, a new menstrual hygiene training program is included for young girls. Tippy taps are also installed for hand-washing to break the chain of contamination.
The programs are much more than just clean safe drinking water. Young girls get to go to school for the first time, children no longer die from typhoid and malaria, families at home are no longer sick, the chain of contamination has been broken using tippy taps and education, children can concentrate on learning instead of stomach cramps. Through The Water School, we are helping these children, teachers and families in so many positive ways.
Doug Thorson, AWWOA Charitable Donations Chair Person