Giving the Gift of Clean Water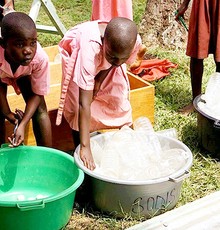 AWWOA members have first-hand knowledge of the importance of safe drinking water and proper sanitation. Therefore, they support charitable organizations that directly tackle community problems related to bad water. Monies collected through member fund raising are donated to The Water School, a global, non-profit organization dedicated to providing safe water and sanitation solutions in developing nations. 
Charitable Donations 2019
This year, AWWOA and its members raised $24,926 in charitable funds; the highest raised thus far. AWWOA donated funds to support two children's Primary Schools in Uganda through The Water School. Additional funds were also donated to rainwater collection and storage.
In 2019, your AWWOA will be sponsoring the Busagazi Community School and the Saint Maria Primary School. Together these two Primary schools represent about 1000 children, teachers and aids. Since these children can take home the water, the number of people who benefit from the clean safe drinking water is double, amounting to about 2000 men, women and children.
At the 44th Annual Operators Seminar opening, Tony Woodruff from The Water School opened our eyes to just how poor these people are, yet how happy and willing they are to share what little they have. We learned about programs including teaching for young girls and the community. Teaching is provided for health, cross-contamination and tippy-taps. If you were unable to attend, you can go to The Water School website and find some marvelous stories on the lives that have been changed by clean safe drinking water.
I find the generosity of the AWWOA, Suppliers and Contractors overwhelming. You stretched your hands out over thousands of miles to help children and parents who you will never meet, with clean safe drinking water.
Doug Thorson, AWWOA Charitable Donations Chair Person