Giving the Gift of Clean Water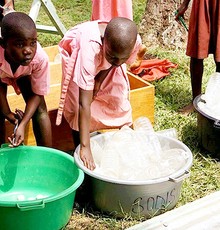 AWWOA members have first-hand knowledge of the importance of safe drinking water and proper sanitation. Therefore, they support charitable organizations that directly tackle community problems related to bad water. Monies collected through member fund raising are donated to Water School and Water for People-Canada. Both are global, non-profit organizations dedicated to providing safe water and sanitation solutions in developing nations. 
Charitable Donations 2015
This year, AWWOA and its members raised $22,233 in charitable funds. AWWOA donated $20,000 to support two children's Primary Schools in Uganda through The Water School. The remaining $2,233 was donated to the Peru community project through Water For People Canada.
AWWOA is fund raising specifically for Tididiek Okoram Primary School in the District of Ngora Uganda. It receives untreated water from a borehole, supplemented by rainwater. Consequently many of 500+ school children suffer from stomachaches, typhoid and diarrhea. The Water School project will provide them with sanitation education and safe drinking water using a simple solar disinfection process. The result will be students who can concentrate on school because they are healthy and happier.
Charitable Donations 2014
Knowing how great the need is for safe drinking water, AWWOA and its members raised $22,700 for Water School to support two primary school projects in Uganda, as well as, for a Bolivia community project through Water for People - Canada.
These safe water projects literally save lives and make a real difference in local communities. Thank you for your generosity.
Doug Thorson, AWWOA Charitable Donations Chair Person