Water Week Pre-Conference Workshops Announced
posted on Sep 25 2019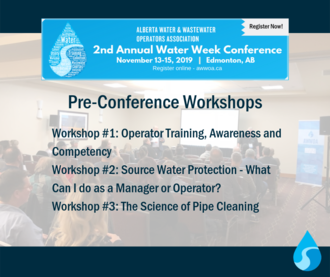 Registration is now open for our 2nd Annual Water Week Conference Workshops!
Workshops take place Wednesday, November 13 from 8:30 am - 11:45 am and offer 0.3 CEUs.
Workshop #1: Operator Training, Awareness and Competency
Presented by: Shane Fuson, Fusion Safety Services
The session will focus on how to conduct a training needs analysis, develop a training matrix and standardize training. We will also look at how conducting a proper incident investigation can help determine if the training and competency process within your organization is adequate to prevent a similar incident from occurring.

Workshop #2: Source Water Protection - What Can I do as A Manager or Operator?
Presented by: Garry Drachenberg, Jeff Fetter, Kristen Andersen and Grant Dixon, Associated Engineering
This workshop will focus on Source Water Protection, (what it is? what it means? including practical ideas about what we can do in our local watershed or community to improve our resilience to changes from climate or development and better protect our source water, now and in to the future.
Workshop #3: The Science of Pipe Cleaning
Presented by: Ken Billingham, KEG Technologies Inc.
This presentation examines wastewater main cleaning procedures and new methods for optimal cleaning results. Participants will learn about the relationship between flow and pressure as well as nozzle design and how that impacts the performance of the equipment. The causes and remedies of "blown toilets" will also be discussed. Attendees will have a better understanding of how to clean lines quicker, more effectively and with less physical effort.
For more information and to register, visit our website.