Congratulations to the Winners at WCW19!
posted on Sep 24 2019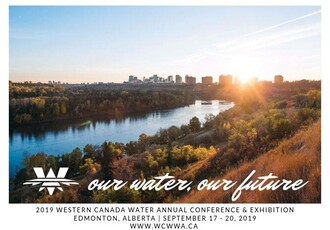 Last week at the 2019 Western Canada Water Conference & Exhibition in Edmonton, members were recognized with a variety of awards. Help us congratulate the following Alberta-based water/wastewater professionals and facilities on their accomplishments!



WILLIAM MCKAY HONORARY LIFE MEMBER
Kathy Abramowski - Kathy previously worked for Alberta Environment Water and Wastewater Operator Certification Program from 1983 - 2016. 
Ed Spohr - Ed began his career with the City of Calgary, then joining the Town of Okotoks with EPCOR. He currently serves on the AEP Certification Advisory committee and is the AWWOA Executive Board Past Chair.
Norm Grexton - Norm started in the industry by building water and wastewater facilities in Ontario before moving to Alberta. He instructed for the Water and Wastewater Technician Program at Westerra and NAIT. He's also played a large role within the AWWOA through developing courses and serving the the Board.

H.M. BAILEY AWARD
Douglas Kaupp - Doug joined the City of Lethbridge in 1990 as a process engineer at the wastewater treatment plant. He is currently the General Manager of Water and Wastewater. As a founding member of the Oldman Watershed Countil, he currently serves as Chair on their Board of Directors.

AL REIMER AWARD
Garth Carl - Garth began his career working for the Town of Hanna and then the Henry Kroeger Regional Water Services Commission, which took over the water treatment plant. He has been involved with the AWWOA for more than 20 years, having served on the Executive Board and developing online training programs.

EXCEPTIONAL MUNICIPAL PROJECT AWARD
City of Calgary Shepard Waste Management Facility

GEORGE W. BURKE, JR. AWARD
EPCOR Gold Bar Wastewater Treatment Plant

BEST OF THE WEST WATER TASTE TEST
EPCOR - A huge congratulations to EPCOR for winning the Western Canadian Section of the American Water Works Association's Best of the West Taste Test! They will go on to represent at ACE!
Thank you to Western Canada Water for providing this information.
For more information about these awards, visit the Western Canada Water website.